I didn't realize that I haven't participated in miscellany monday ever since I've had Maggie Claire. It's time to get back in the swing of it!!! Link on up @ carissa's
lowercase letters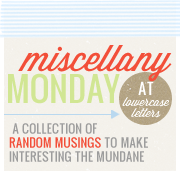 I started going to a women's bible study on Thursday mornings at my church this past week. It felt so good to go worship with a bunch of ladies and hop into a group! My group is starting off studying one month to live by Kerry & Chris Shook. I am super excited about it & I'm looking forward to fellowshipping with a new group of ladies! I have always done small groups, but I am normally a leader of a small group for teens, so I was a bit nervous going on Thursday & the funny thing was that I think I was the youngest person there out of over 100 ladies that came! Talk about having a lot of people to look up to... I am so blessed!!! Have any of you read this book?
I know I say this every year, but all I can think about it going to the beach this summer! March, can you please hurry up so I can go to the beach and catch some rays with my sweet baby girl?? Thanks. :)
Maggie Claire got her first pair of jeggings from her Oma. Yes, they are so cute I just cant stand it!!! I can't wait to pair them with more outfits & some boots!!
I am looking for a high chair because before we know it we will be introducing solids to Maggie Claire and we need a good one! I need your advice on an affordable high chair! I would really like a chicco polly high chair, but it seems to be a little pricey. We do have one, it is a wooden restaurant style one from pottery barn. I just don't think it's that practical for our house for maggie claire. I'm going to probably bring it to my moms house and leave it there for when we come over b/c it would work over there!
I hope everyone had a wonderful Monday!!!