Today I had a doctor's appointment
{26 weeks 3 days}
to take my glucose test and have an ultrasound! I was of course super excited about my ultrasound... but sadly, I can't scan in the pictures because my computer is sick and waiting to get fixed so I'm using Mike's work computer which won't connect to our scanner! The pictures of her are so cute though! She weighed in at
2 lbs 4 oz!
I was so shocked at how big she is getting! I didn't ask if she was measuring big for her gestational age, but the doctor said everything looked perfect and she is growing very healthy and strong! Her heartrate was a strong
132 bpm!
We got to see her yawn 2 or 3 times, that was so cute, she had her hands up by her face and she just looked so sweet all cuddled up!! oh yes... and the chubby cheeks are definitely still there, I can't wait to kiss them!!!
Until I can get the ultrasound pictures scanned in, here are my belly pics for last week and this week! I changed the ribbon to be patriotic for the month of July! :)
The glucose test wasn't as bad as I has expected. They make you drink this very sugary drink, I had
orange flavor
and then you have to wait for an hour and they take some blood to see how your body reacts to the sugar. Now, I just have to wait about a week to get the results back, I'm hoping for no call from the doctor because, they said "no news is good news!" I guess we'll just wait and see!
Also, I just wanted to send everyone over to
Adrienne's blog
and pray for sweet baby Bennett. I just love that name for a little boy! Bennett was born on last week on July 3rd at 26 weeks 5 days. Adrienne's due date for
Bennett
was October 4th, just 5 days shy of my due date. I can't even imagine delivering a baby right now at this gestational age! Bennett was only 1 pound 4 ounces and 12 inches long! He is doing great, but of course still needs our prayers because he needs to grow stronger so he can go home to see his brothers and sister! I'm praying for little baby Bennett!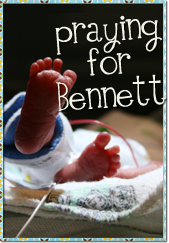 Stay tuned for my next blog post... I have pictures of Maggie Claire's nursery ready to reveal!!! I can't wait! It's coming together so fast! :)
Back to work tomorrow... I have enjoyed this long holiday, today I went to the beach for 2 hours by myself and it was soooooo nice! :)